A website or code to Azure App Service is deployed normally via following methods:
FTP: This is manual steps to deploy a website wherein all deliverable files are copied to destination path on the web server via FTP client tools like FileZila. This is a basic way of deployment where you have to know how to deploy files to the correct directories in App Service, no version control supported for rollback when failures occur.
Web Deploy: It is a mechanism to deploy code to App service directly from Visual Studio. This tool supports diff-only deployment, database creation, transforms of connection strings, etc. Web Deploy differs from Kudu in that application binaries are built before they are deployed to Azure. Similar to FTP, no additional services are provided by App Service.
Kudu: it is a deployment engine which facilitates deployment of code to App service directly from Dropbox, One Drive, git, mercurial repositories. Kudu also provides added services when the code is committed, including version control, package restore, MSBuild, and web hooks for continuous deployment (eg. git hooks) and other automation tasks.
Kudu deployment engine supports 3 different types of deployment sources:
Content synchronization from OneDrive and Dropbox.
Repository-based continuous deployment from external services like GitHub, Bitbucket, and Visual Studio Team Services.
Repository-based deployment with sync from local Git.  The Git repository is "local" to your Web App instance.  You can publish directly to the Web App from your local computer simply by cloning the Git repository.  Once you commit and push the changes directly to the repository that is local to the Web App.  On any commits, the Web App creates a new deployment and using the latest build of code.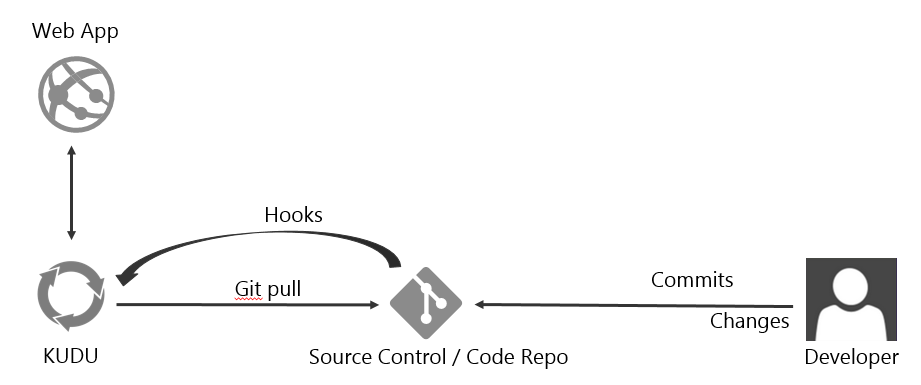 Continuous Deployment workflow from Git repository
KUDU engine source code is available as open source. You can read more about KUDU on its wiki page. KUDU wiki.
Some times it is needed to run visual studio as administrator for system level activities like if you want to setup IIS virtual directory in your visual studio project, To setup IIS settings etc.
If you want to run visual studio as administrator once, you can right click devenv.exe and select "Run As Administrator".
But sometimes there are requirement to run visual studio always as admin then you can set privilege level to administrator. Here are the steps:
Step 1 : Goto to executable of Visual studio IDE in "C:\Program Files(x86)\Microsoft Visual Studio 9.0\Common7\IDE\", Right click on devenv.exe -> Properties -> Compatibility-> And Select "Run as Administrator" check box.
You will also need to setup for visual studio launcher.
Step 2: Go to executable of Visual Studio Launcher on "C:\Program Files (x86)\Common Files\microsoft shared\MSEnv\VsLauncher.exe" and follow same steps like step 1.
FxCop is standalone tool that can analyse managed code assemblies. It gives report about improvement in code based on Microsoft standard coding guidelines. However you can also add your rules in this tool.
FxCop is not integrated into Visual studio. There is separate extension (FxCop Integrator ) which can integrate Fxcop in Visual Studio 2010.
How to Install
You can install FxCop Integrator as independent installer or as extension in Extension Manager.
How to Run Code Analysis ?
Show Result